Find Cheapest Flight Deals With Skyscanner
SkyScanner is one of the best travel booking sites because it sets reasonable prices for users and has special offers that you won't be able to find anywhere else. In this article, we will talk about the SkyScanner website and how to use it, and its most important features.
Many people face many challenges when searching for travel reservations, as they often have to search all airline websites to find a suitable flight ticket in terms of price and time. Unfortunately, airline websites are scarce in information and choices, and tickets are often available at exorbitant prices. But with the development of technology, it has become easier, especially in light of the availability of several sites that perfectly help you bypass this problem.
It enables the user to choose the most appropriate airline for him and determine the appropriate flight times for his flight, and the flight can be canceled in the event the user withdraws from the flight or when a problem occurs.
SkyScanner Features:
Find Flexible Dates for your Travel
SkyScanner makes it easy to see if there are better and cheaper flight options to and from your destination. The 'Cheapest Month' search option allows users to view prices for the cheapest month from their chosen departure date to their destination. This is especially useful if you have a specific location but don't have dates.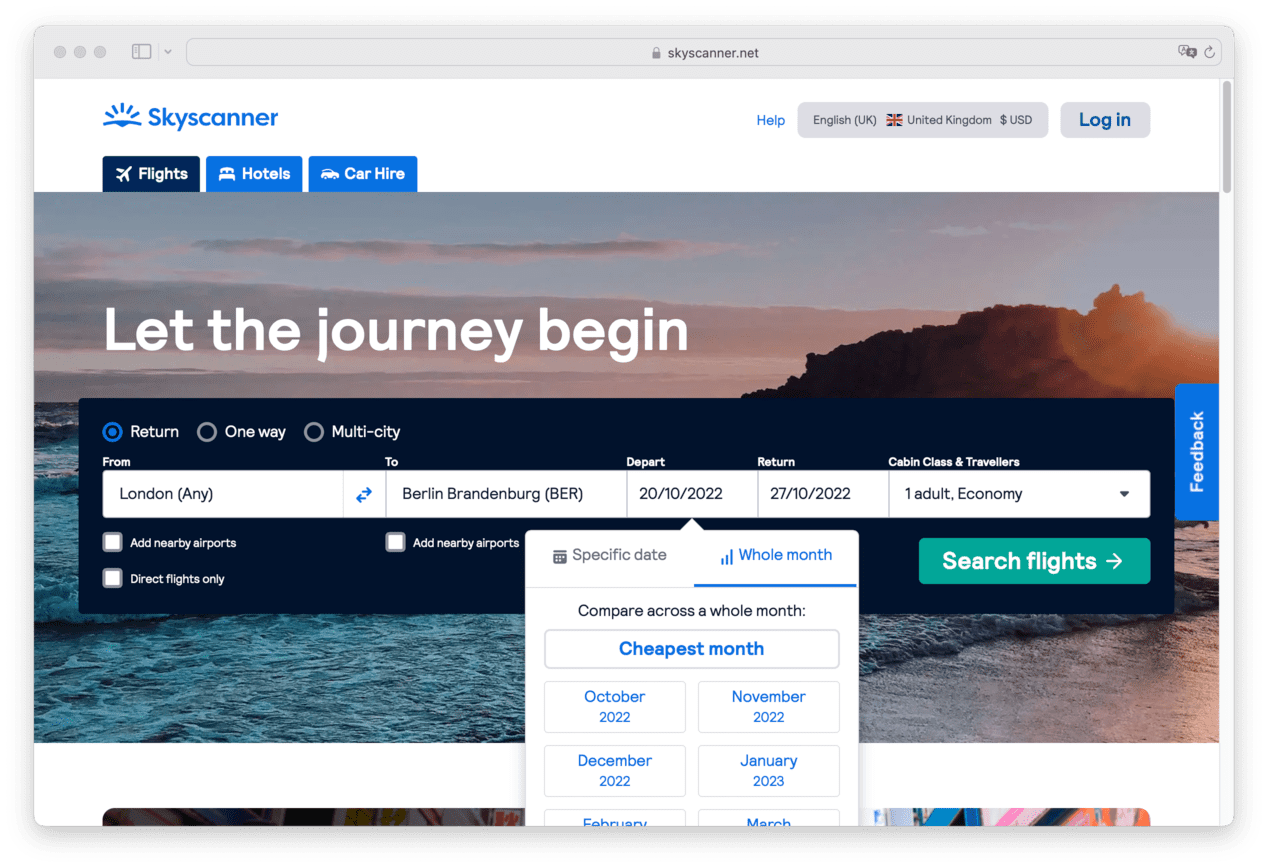 Cheaper Flight Tickets From Airline Websites
When making price comparisons between airline sites, SkyScanner is always cheaper than even the recommended airline agents.
It just requires good research and periodic monitoring of price changes.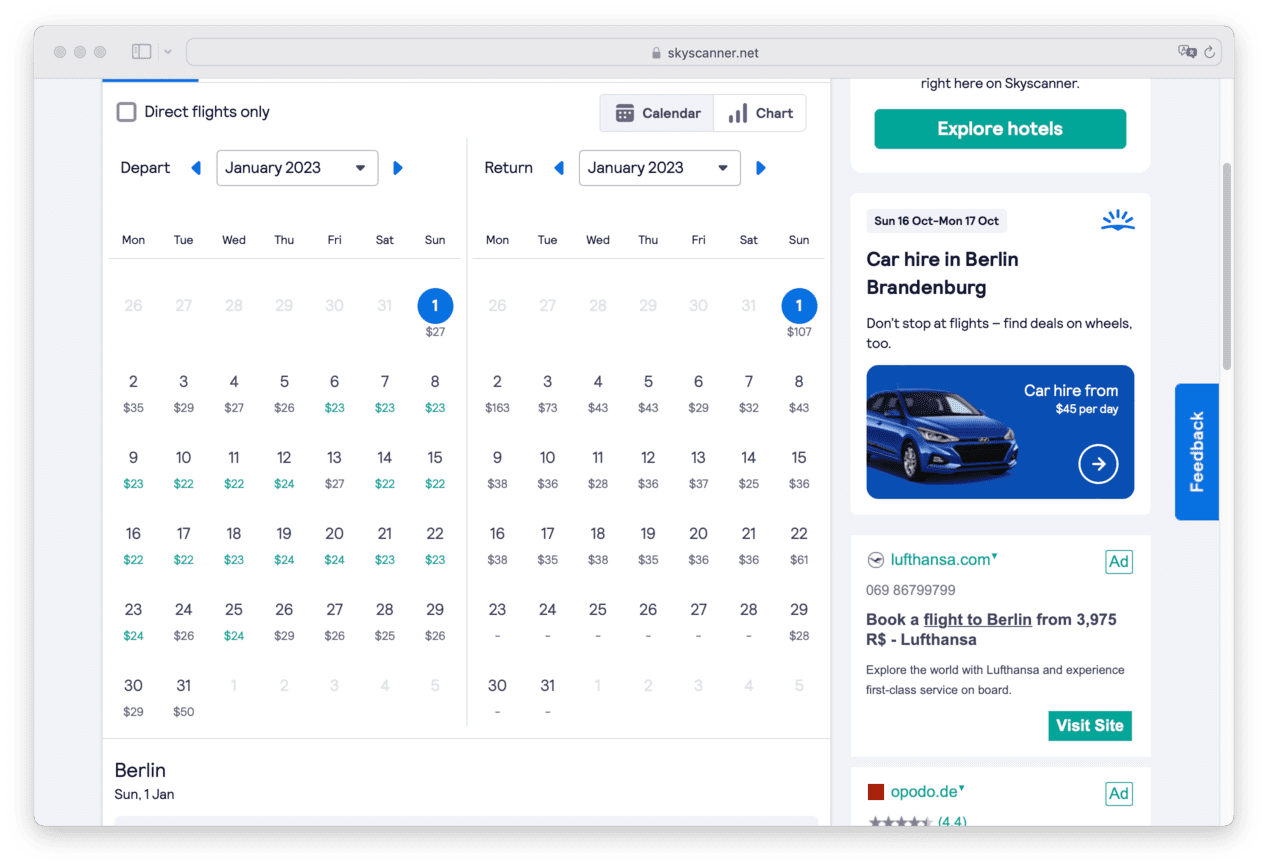 Real offers, Coupons, and Discounts
The site usually makes real discounts through discount coupons on airline ticket prices. On the occasion of holidays, for example. The site makes important discounts up to $30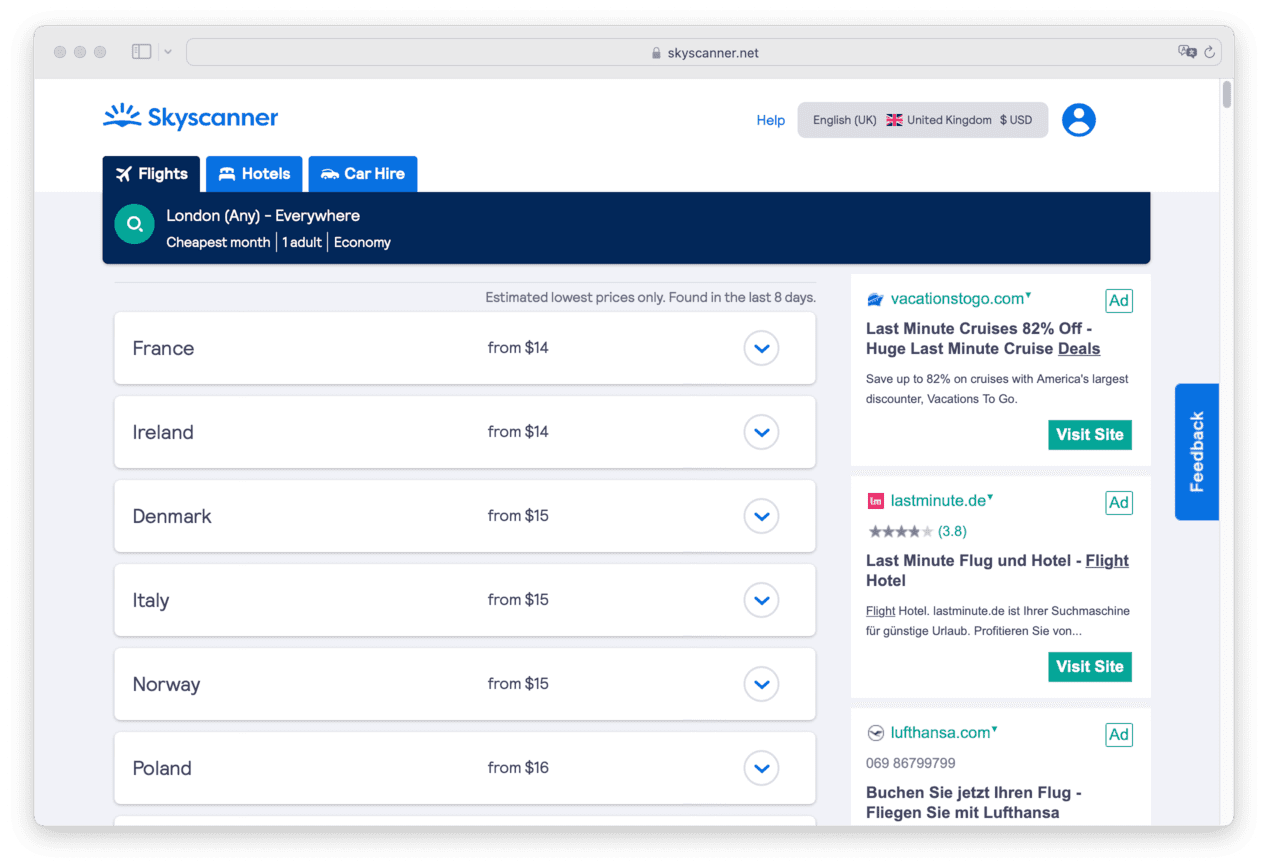 Easy-to-Use App
SkyScanner App is one of the best among all other apps. It has a clean and clear-to-use interface, and you will receive price alerts right on your phone.
How to Use SkyScanner?
How to search for a flight on SkyScanner
We assume that you are trying to book a flight from Tokyo to Paris. You want to go in late spring before the high season comes and you have about two weeks off.
First, select your dates and location and for broader results be sure to leave the From and To fields open for any airport in the area. You can select your class of travel and number of passengers here as well. If you want to do some city-hopping then select the "Multiple Cities" option.
How to display SkyScanner flight results
The results are automatically sorted by Best, but you can also sort by Cheapest and Fastest. In this case, the cheapest flight takes twice as long as the faster one, but you'll save close to $300.
Set SkyScanner flight price alerts
If you don't plan to book right away, you can set up an alert by clicking "Get Price Alerts" at the top of the search results. You will be asked to log in and then you will receive emails regarding any price fluctuations. You'll benefit from this if your flight is still far away or you're not familiar with the normal route prices and want to make sure you get a good deal.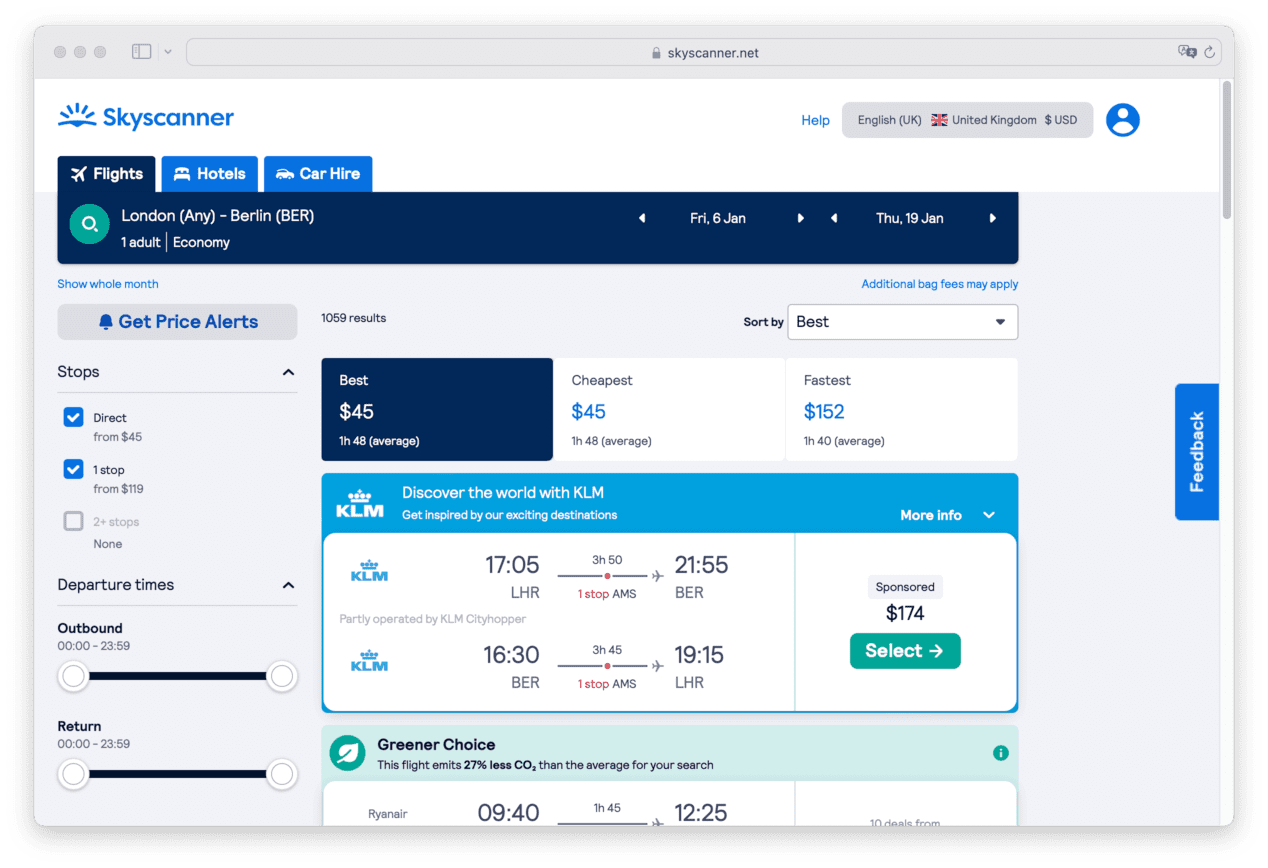 How to set flexible departure locations on SkyScanner flights
If you are more flexible with the departure city, you can search from a country instead of a city, eg the UK instead of London. The search process is identical to that of a single city, but with an extra step, it shows you the cheapest price from each departure city within the country before viewing the calendar. The cheapest airport to depart from may not always be the one you expect.